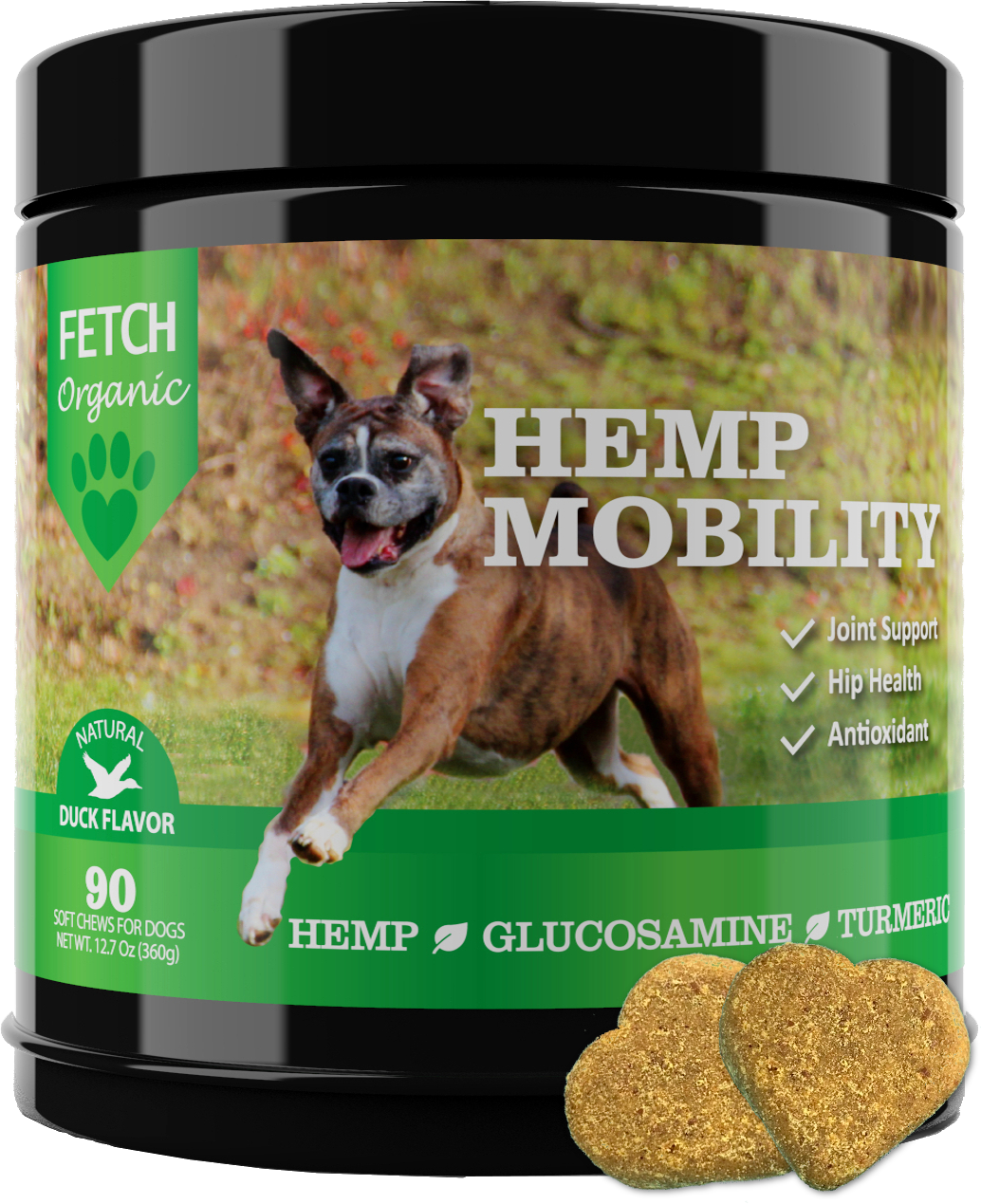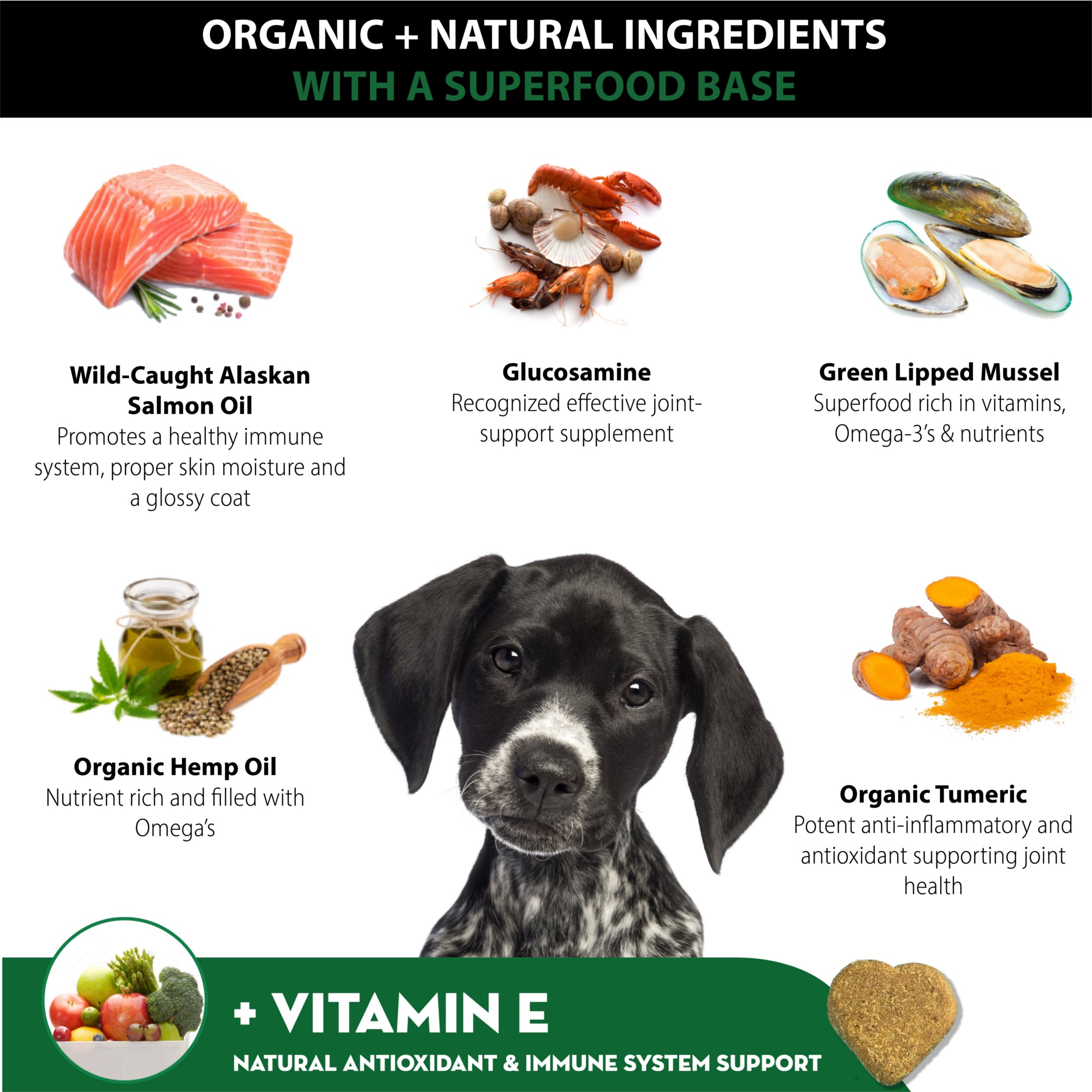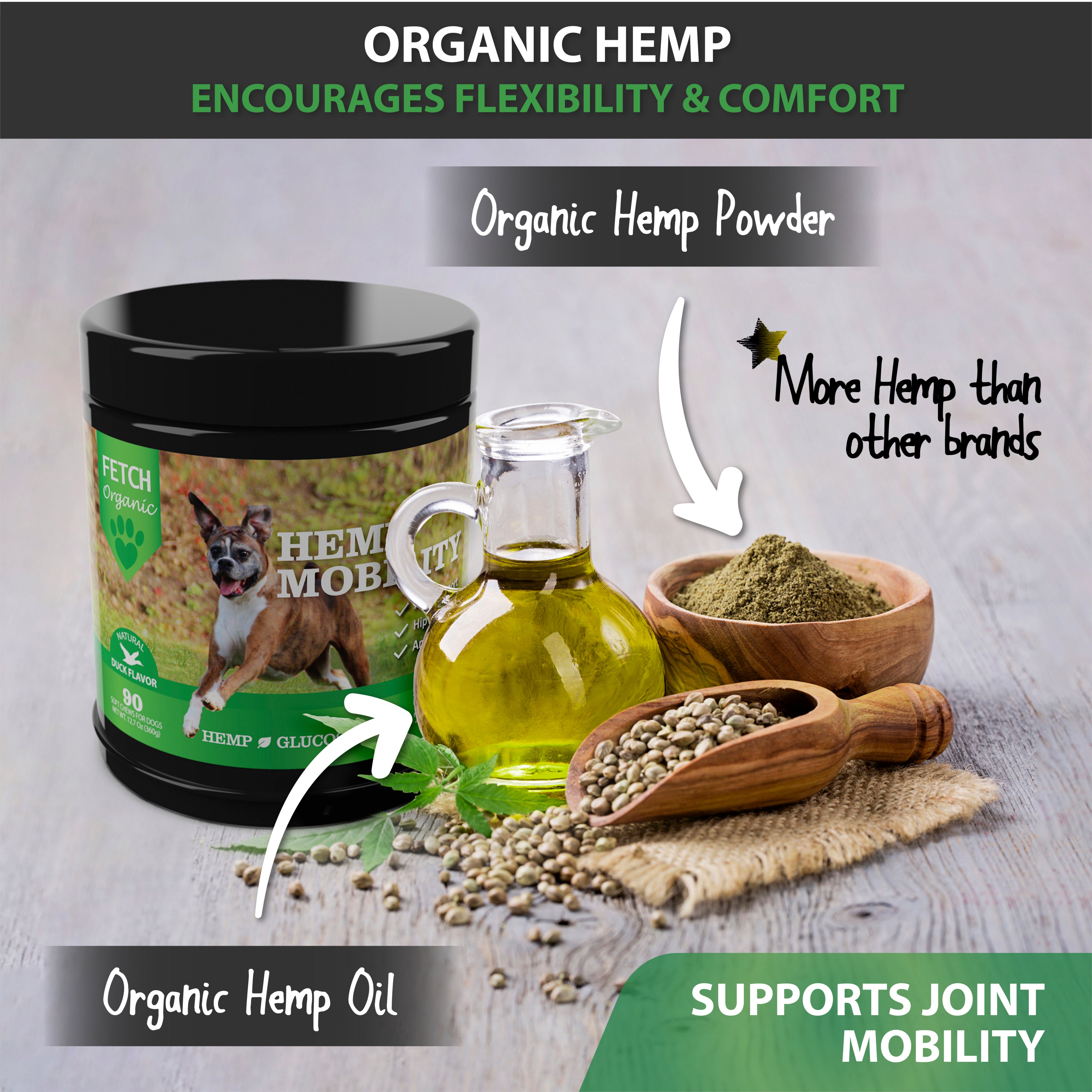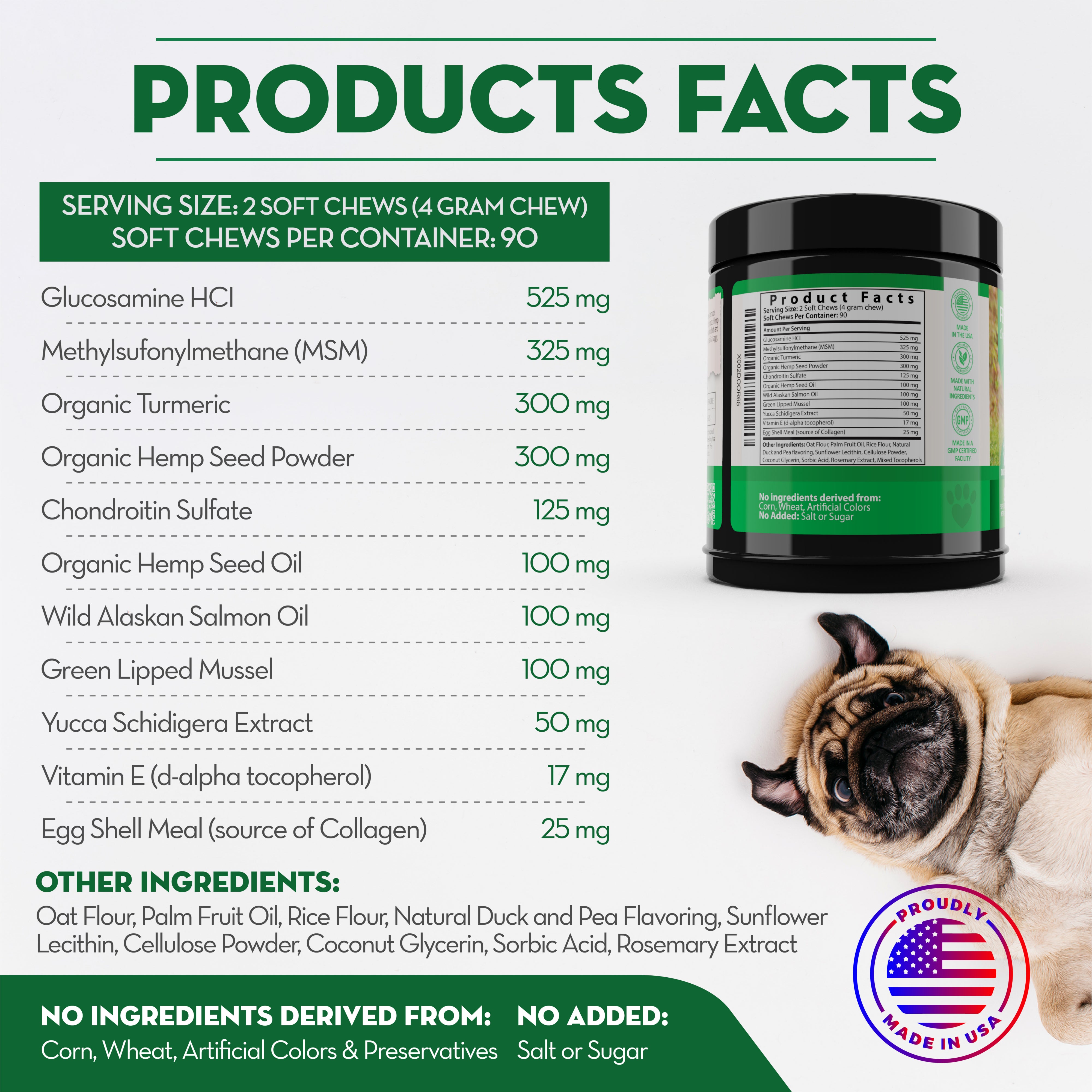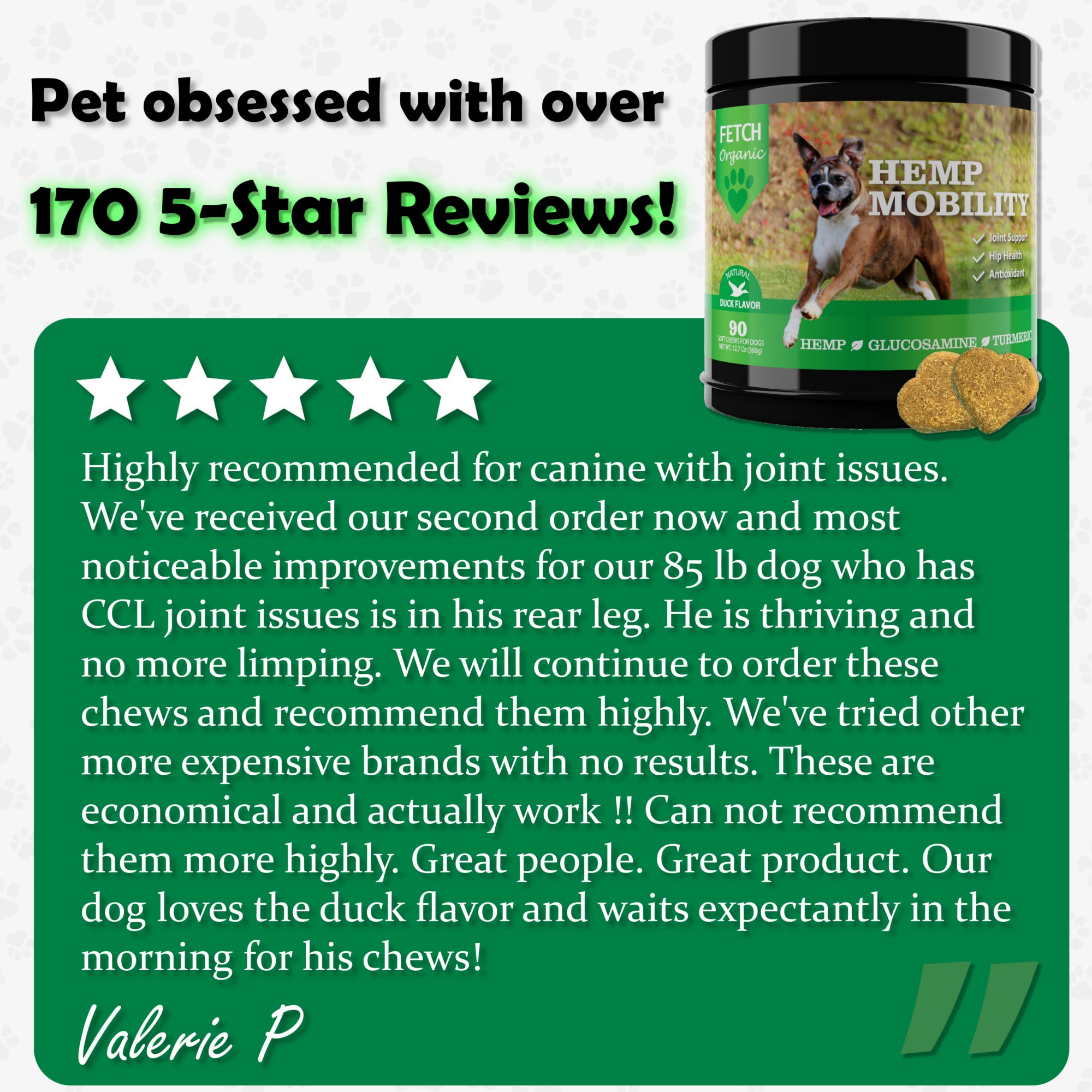 PREMIUM, NATURAL & MADE IN THE USA
Fetch Organic Hip & Joint Mobility soft chews are made with organic and natural ingredients including superfoods rich in vitamins, antioxidants and omegas all known for working together to sooth inflammation and joint stiffness while promoting healthy joints and lasting mobility.
Wild Caught Alaskan Salmon Oil
Promotes a healthy immune system, proper skin moisture and a glossy coat
Glucosamine
Recognized effective joint-support supplement
Green Lipped Mussel
Superfood rich in vitamins, Omega-3's & Nutrients
Organic Hemp Oil
Nutrient rich and filled with Omega's
Organic Tumeric
Potent anti-inflammatory and antioxidant supporting joint health
What's Inside?
Details
Fetch Organic soft chews are among the highest actives per chew, which means longer lasting supply and the most value for your money! And none of our ingredients are derived from corn, wheat, artificial colors or preservatives. When you feed your dog Fetch Organic chews, you can be confident you're giving them quality ingredients without the use of unnecessary fillers or additives, such as salt and sugar.
NOTHING ARTIFICIAL
HEAT FREE
GRAIN FREE
SUGGESTED USE
BODY WEIGHT
AMOUNT PER DAY
Up to 25lbs
1 Soft Chew
26-75lbs
2 Soft Chew
Over 75lbs
3 Soft Chew
Reviews
Customer Reviews
Questionable customer service
I have emailed and called, and have not received a call back or an email. Pretty disappointed in their customer service. the supplements were fine, while they worked. My dog won't take these anymore. I have two unopened jars, one still in the mailer. I have asked for a return voucher. As I said, have no word from Fetch.
10/14/2021
Karen_dow

United States
Wow, This REALLY works
My 12 year-old Flatcoated Retriever started showing his age this year. He was having trouble going up stairs and when I decided to find help for him was just after I asked him to jump up into the station wagon and he just looked up at me like "do I have to?" This is a dog who jumped up and down to go for a ride. I purchased Hemp Mobility and after a few weeks on it he seemed happy to go up stairs and also his coat which had gotten dull with age returned to black and shiny like when he was young. The test was today when he jumped right onto the back of the station wagon like a youngster. I am so relieved because I could tell that he was having trouble even sitting down which he did very gingerly. This is a dog who used to run through the woods like a bullet and jump 6-ft fences which I am sure contributed to the aging process even more. Thanks FETCH ORGANIC for helping my sweet old man regain his strength and vigor!
10/14/2021
bookworm

United States
I Love It!!!
I foster dogs from a local rescue and keep them in a home setting until they can be adopted...I received Hope a Chihuahua mix...approximately 20 pounds...I noticed that he was walking stiff legged and would limp...Hope is 10 years old... a senior guy...which is why he probably had aches and pains and walked rather strangely...I discovered Fetch Organic...these soft chews are wonderful...I noticed a difference within a few days...Hope definitely has more pep in his step...no more limping...he is actually running when he gets excited...and generally seems more happy... probably because he's pain free...I would definitely recommend giving these soft chews a try...they work great!!!
10/08/2021
Dela63

United States
Truely Amazing product!!!
My Dog is about 10 yrs old now. Before trying this product, he pretty much had very little energy and was moving like he was in constant pain. I felt so bad, I didn't know what to do. I got pain pills from the Vet but that was temporary. Since using this product for about 3 month, OMG, the difference is amazing. Really! So much more movement and energy. First couple of days I saw the difference. He's walking longer now too! Before, he could barely make it to the corner from our culdesac. I'm so amazed by this product and as long as it keeps my dog going I'll purchase more. He's on my second purchase from this company. Great job in looking out for a very important part of our families! Thank you
10/08/2021
cja

United States
Old dogs can still run!
I ordered these for my old girl. I have a 7 year old catahoula who has spent her life running fast and playing rough! Age seemed to catch up to her all at once and she lost all interest in leaving her recliner, walking was difficult, she tended to balance on her front legs. I started her on 2 a day and she is back at it, slower if course but she has the will and desire to leave her chair and run with the other dogs. Will continue to use these.

Become a VIP!
SIGN UP TODAY AND RECEIVE 10% OFF YOUR