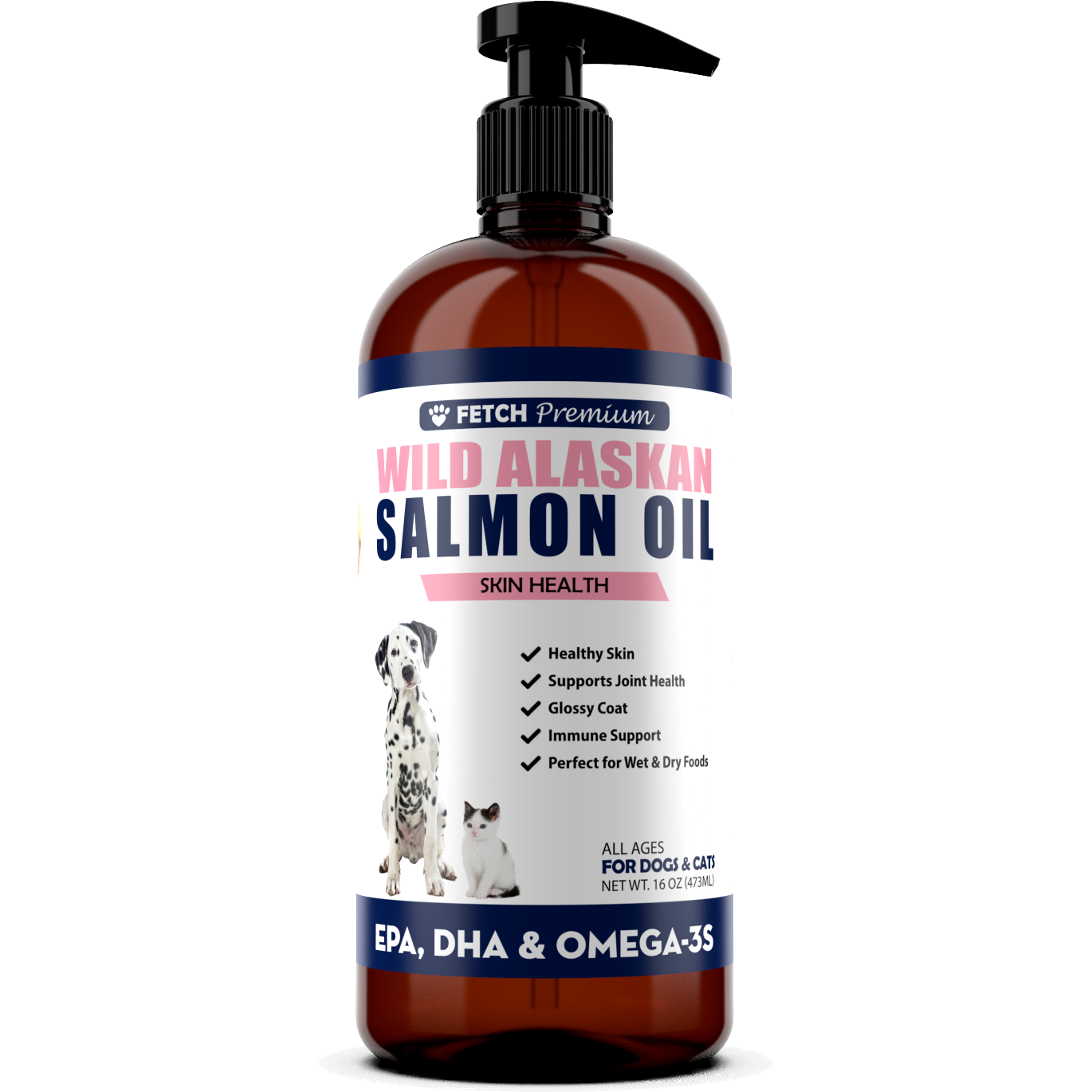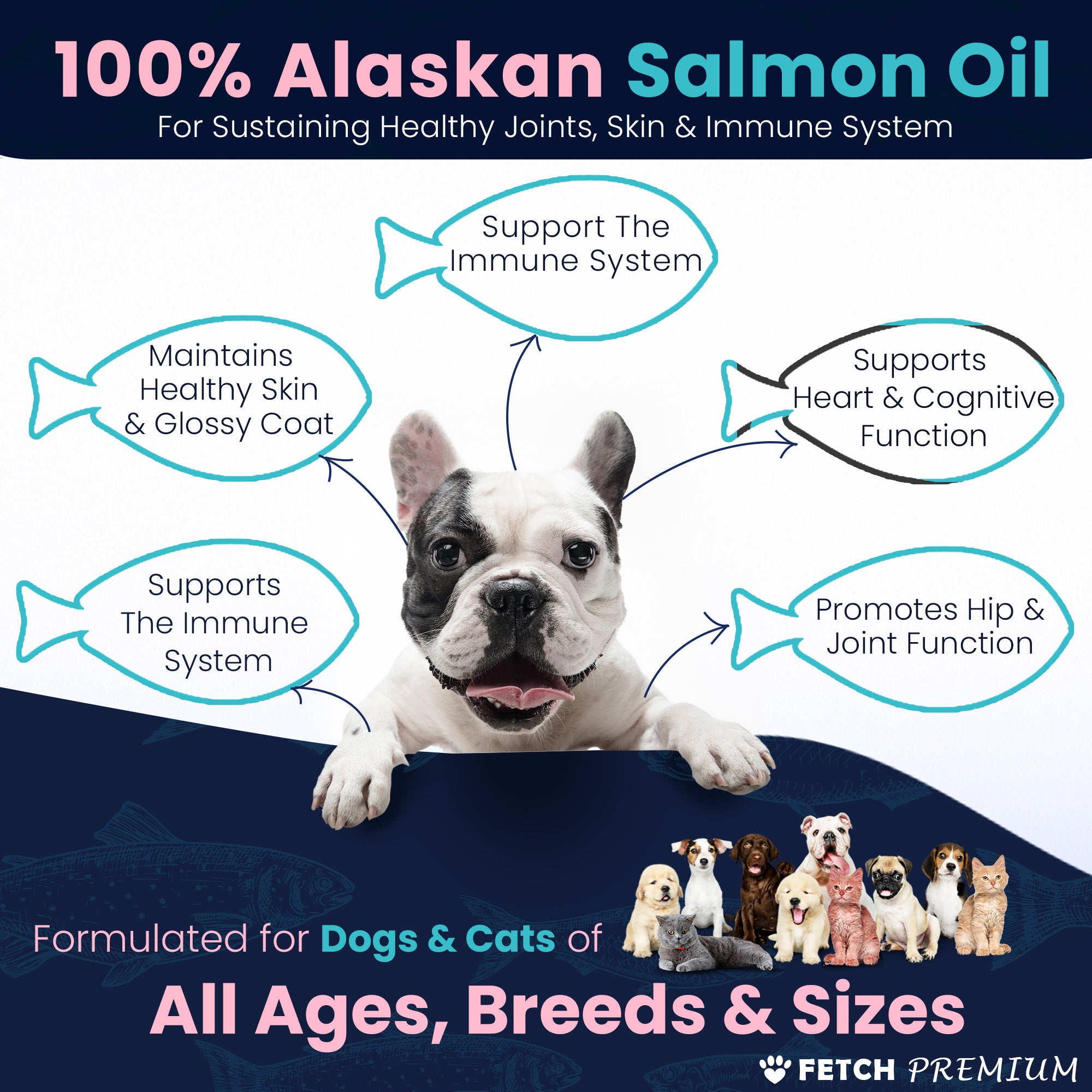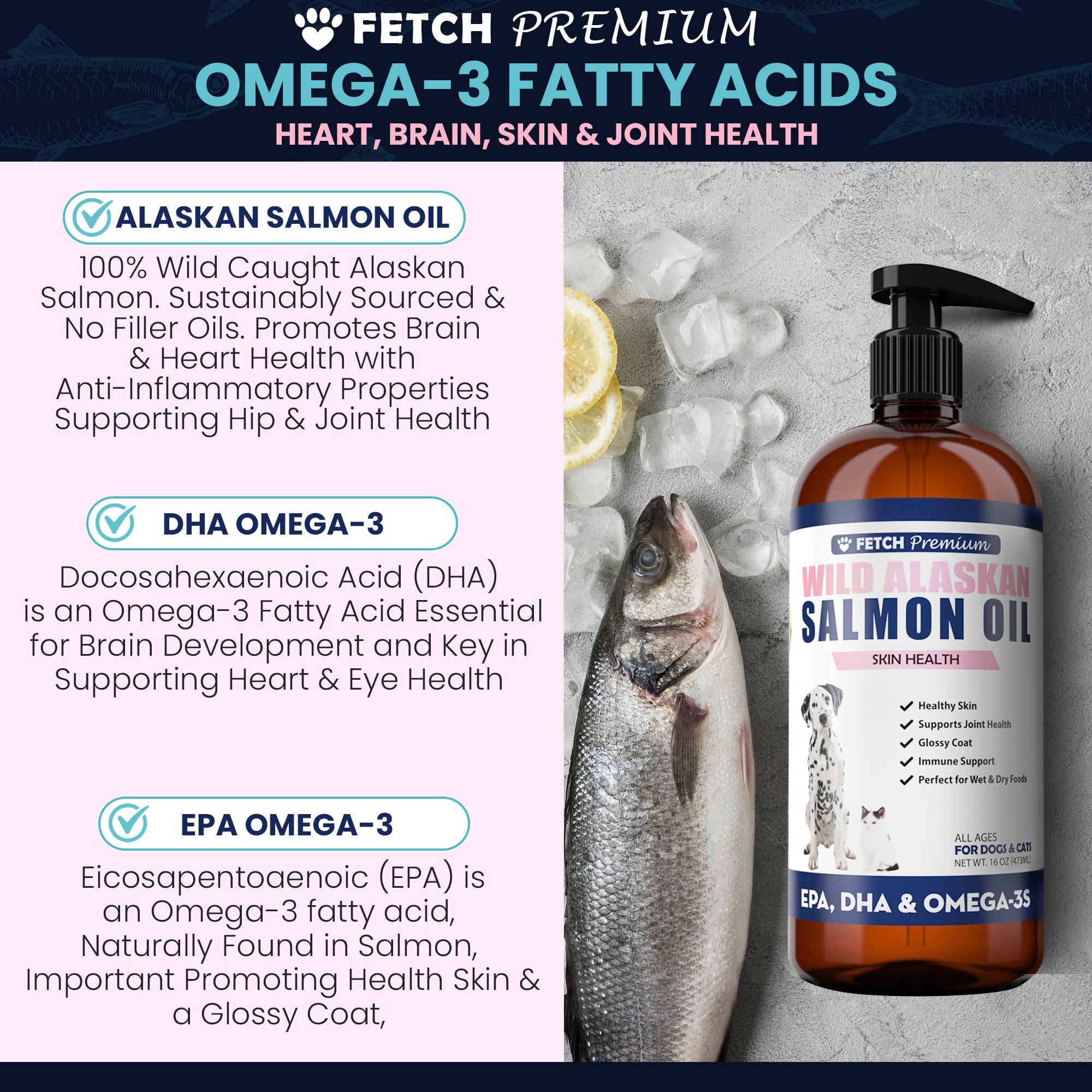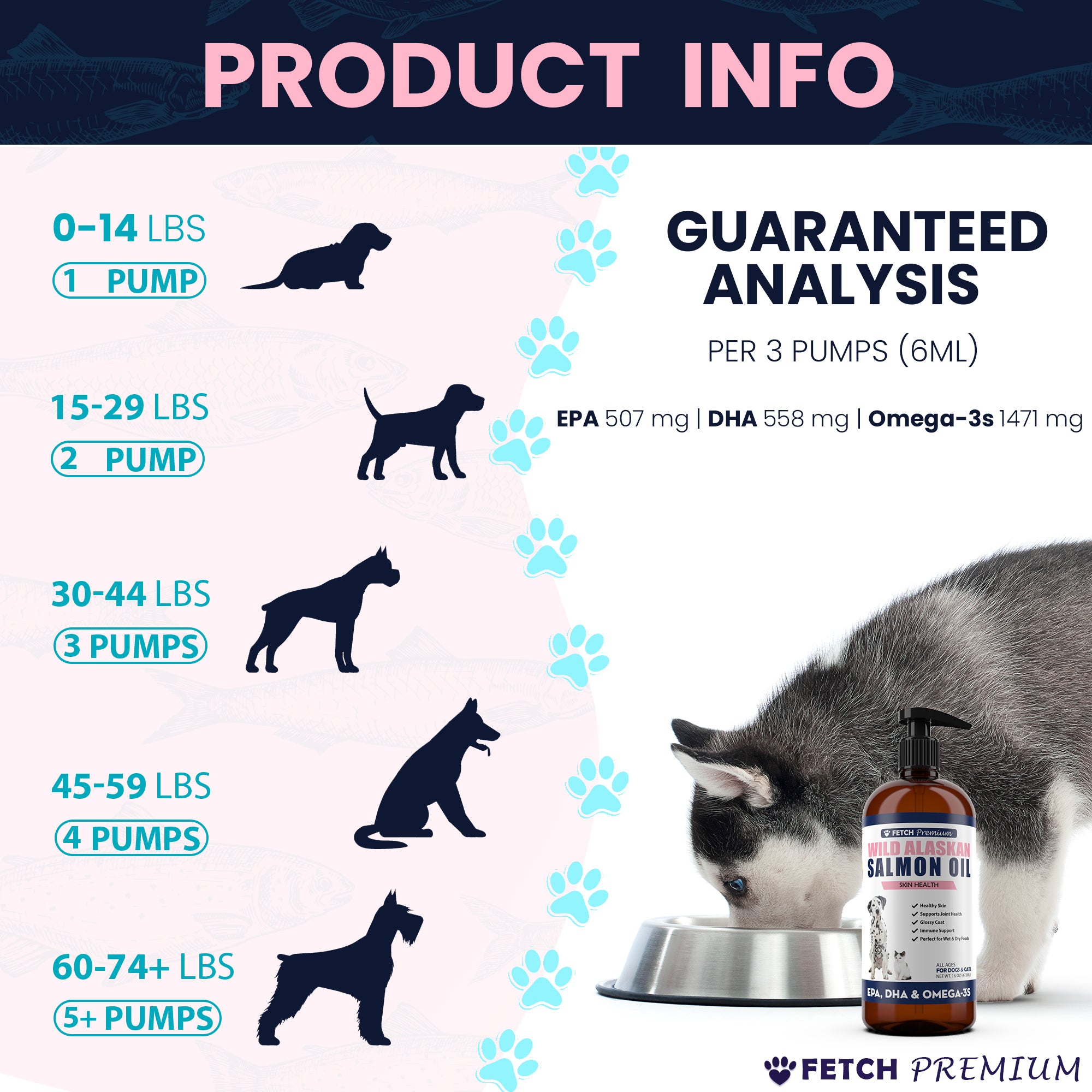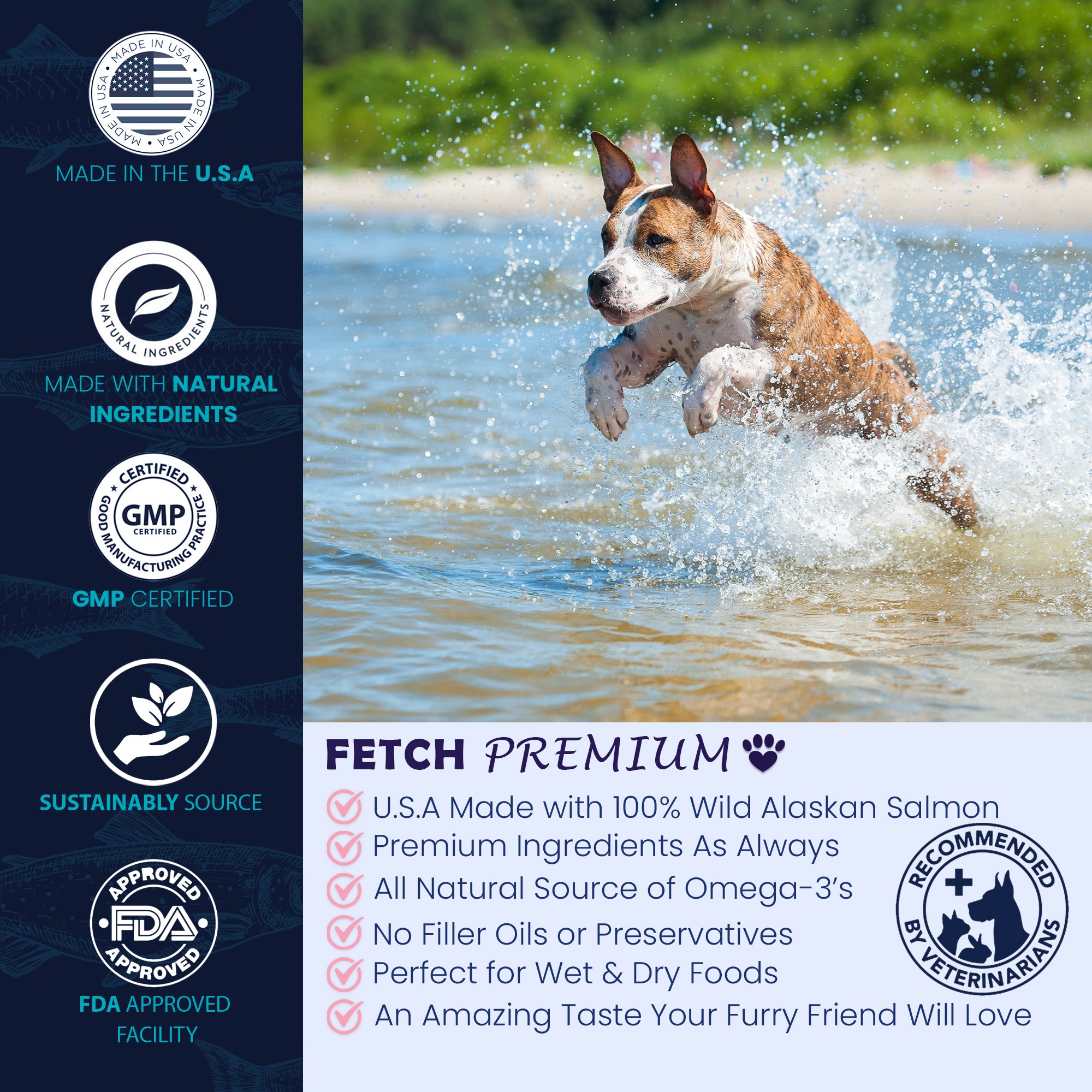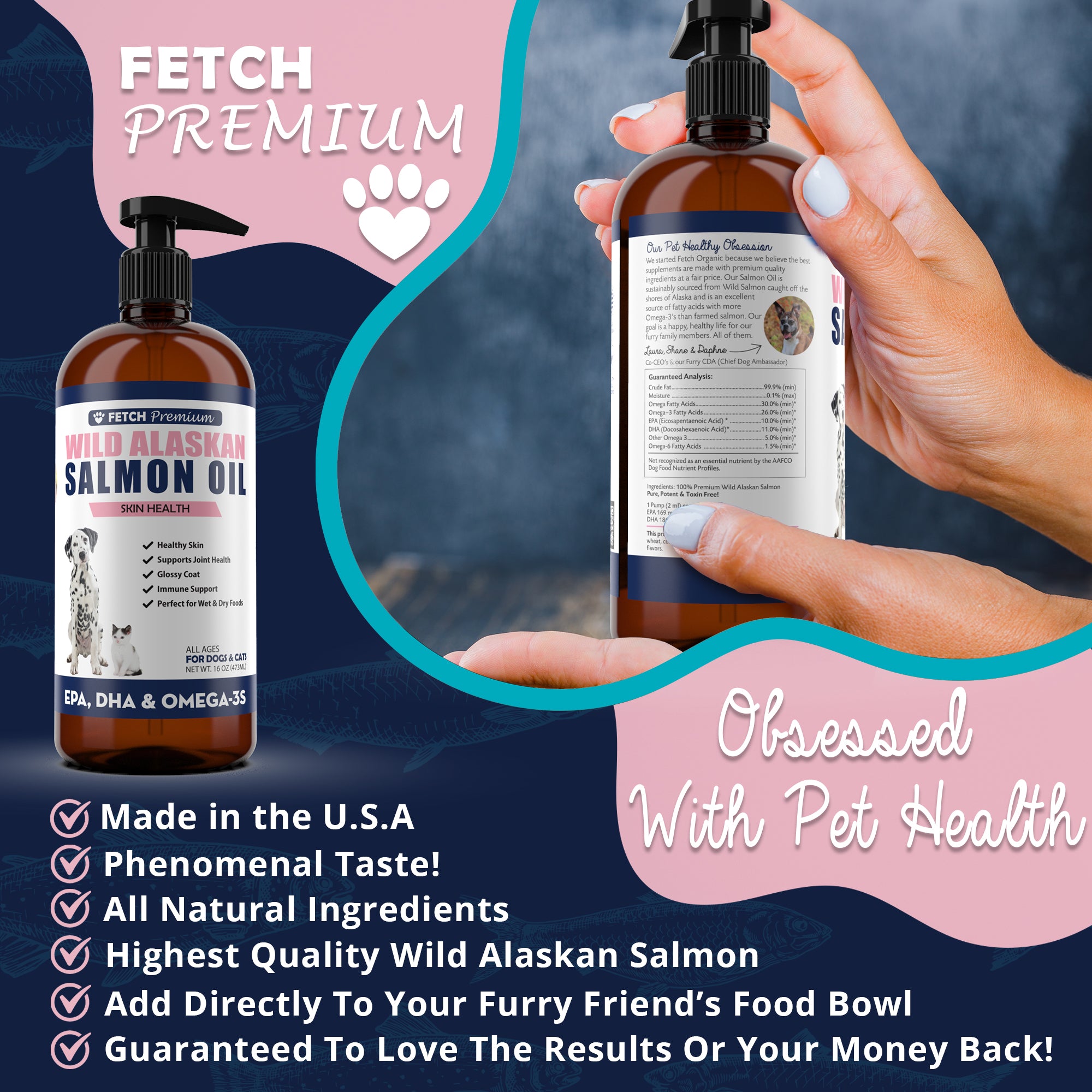 PREMIUM, NATURAL & MADE IN THE USA
Fetch Organic Wild Alaskan Salmon Oil promotes healthy skin and a silky coat. this Fetch Premium formula is packed with more powerful Omega Fatty Acids (Omega-3, with EPA and DHA) than farmed fish to help ease joint stiffness and provides nutrition supporting a normal immune system and inflammatory response in your canine or feline furry friend.
HEALTHY SKIN & COAT
Omega-3s support healthy skin and a brilliant, glossy coat. Perfect for dogs and cats suffering dry, itchy skin or allergies.
WILD CAUGHT ALASKAN SALMON
Promotes Healthy Skin & Coat, Brain Development, Strong Immune System, Hip & Joint Health
HEALTHY BRAIN DEVELOPMENT
DHA found naturally in salmon oil aids neurological function in dogs and cats of all ages, and is critical for pups and kittens.
STRONG IMMUNE SYSTEM
The Omega-3 and 6 fatty acids found in Fetch Premium Wild Alaskan Salmon Oil promote a strong resilient immune system in our furry canine and feline friends.
HIP & JOINT HEALTH
Omega fatty acids found in salmon oil can help reduce inflammation and supports hip and joints comfort and improved mobility.
Fetch Benefits
Details
CAT & DOGS LOVE PURE SALMON OIL AS A DELICIOUS ENHANCEMENT TO ANY MEAL – Like your favorite rub on a slow cooked steak, your furry friend will just love the taste of our premium Alaskan Salmon oil mixed right into their food. A perfect alternative to capsules, raw treats, or soft chews, just a few pumps of the Fetch Premium Salmon Oil will mix seamlessly with any dog or cat food. And best of all, our salmon oil is made right here in the good old U.S.A. with 100% Premium Wild Caught Alaskan Salmon, and isn't diluted with other carrier oil or mixed with harsh preservatives, additives or chemicals.
NOTHING ARTIFICIAL
HEAT FREE
GRAIN FREE
SUGGESTED USE
BODY WEIGHT
AMOUNT PER DAY
Up to 14lbs
1 Pump
15-29lbs
2 Pumps
30-44lbs+
3+ Pumps
Ingredients
Active Ingredients
100% Premium Wild Alaskan Salmon. Pure, Potent & Toxin Free!
Guaranteed Analysis
Crude Fat (99.9%), Moisture (0.1%), Omega Fatty Acids (30.0%), Omega-3 Fatty Acids (26.0%), EPA (10.0%), DHA (11.0%), Other Omega 3 (5.0%), Omega-6 Fatty Acids (1.5%)
Reviews
Customer Reviews
Dogs can't get enough!
We were told by our vet to try incorporating salmon oil for our golden retriever's dry skin. After a week of using it we can tell a noticeable difference in the amount of dry skin in her kennel. Furthermore our golden and our lab DEVOUR their food when we splash some oil on top. We had tried another brand a few years ago, and it didn't seem to be the same quality as this. 5 stars.
11/01/2021
Lilly

United States
Dogs love it
I have to use this sparingly. The dogs go ham trying to eat all the food. Buttt we don't do portion control here, so them wanting to scarf it all down is a problem. I've decided I'll use it when I mix up some wet food with eggs and dry food, I only do it once a week and when I give them pills. Oh putting a bit of this on a pill makes me dogs FINALLY fully eat the pill. Instead of biting it in half to get another treat.
Dog approved
This smells like salmon oil but it doesn't have an overwhelming fragrance. My dog is tiny, so she gets a small pump on her food every day -- she loves it and it helps keep her skin and coat in good condition. Made in the USA. High quality. Good value. What more can you ask for?
11/01/2021
J.G.

United States
Great Salmon Oil Supplement
This salmon oil supplement is made in the USA with 100% wild caught Alaskan salmon. My dog is 12 lbs and takes 1 pump of oil in her food. She loves the flavor and gobbles it down. However, she has never been a picky eater. The product is great and so is the company – I love that they donate a portion of their profits to local no-**** animal shelters.

Become a VIP!
SIGN UP TODAY AND RECEIVE 10% OFF YOUR